---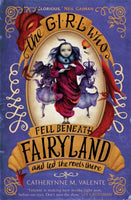 In the kingdom of Fairyland-Below, preparations are underway for the annual Revels. But aboveground, the creatures of Fairyland are in no mood for a party. It has been a long time since young September bid farewell to Fairyland, and she is excited to see it again; but upon her return she is shocked to find that her friends have been losing their shadows, and therefore their magic, to the kingdom of Fairyland-Below... It spells certain disaster and September won't stand for it.

Determined to make amends, she travels down into the underworld where, among creatures of ice and moonlight, she encounters a face she recognizes all too well: Halloween, the Hollow Queen. Only then does September realize what she must do to save Fairyland from slipping into the mundane world forever. Come and join in the Revels with September and her friends.

But be warned: in Fairyland-Below, even the best of friends aren't always what they seem . . .



Author(s): Valente, Catherynne M.,
Binding: Paperback,
Date of Publication: 16/01/2014,
Pagination: 352 pages,
Series: Fairyland,
Imprint: Corsair,
Published By: Little, Brown Book Group,
Book Classification: Children's, young adult & educational,
ISBN13\EAN\SKU: 9781472108104