Dingle Bookshop is open 10 to 5pm Mon to Sat.
Fáilte go dtí Dingle Bookshop. Is mór againn do ghnó.
We are an independent bookshop at the heart of the Dingle Peninsula, a stone's throw from the Wild Atlantic Way. After over 10 years happy bookselling, we have made the leap to online trading but we are still here to help you choose from amongst our 4,000 or so titles.
If you cannot find the book you are looking for, we can order it for you, just email us books@dinglebookshop.com
or phone +353 66 9152433
Fan Slán.
News & Views
It will soon be time for the Dingle Literary Festival. We are looking forward to another fabulous weekend of writers and readers thronging the streets of Dingle. Lots of events...
Delighted to have in stock the comprehensive and fascinating new book on the famous Dingle Railway. Michael Whitehouse  has done a fine job on this beautiful and informative book. It...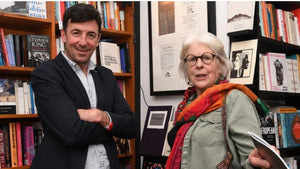 The third in the series of beautiful and highly collectible hand-made concertina books is a lively rendering i nGaeilge agus Béarla of the folk tale An Bodach by local journalist,...

Dingle Bookshop
Dingle Bookshop
Dingle Bookshop
Dingle Bookshop
Image slide
Image slide