---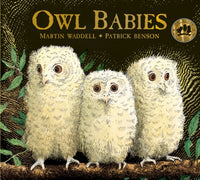 A special 25th anniversary board book edition of a bestselling modern classic, Owl Babies is a comforting read for any toddler who has ever worried about mum leaving them alone, or any child starting pre-school for the very first time.
Sarah, Percy and Bill the baby owls wake one night to find their mother gone. And as the darkness gathers and they perch patiently on their branch waiting for her return, oh how they worry!
Never has the plight of young ones who miss their mum been so sensitively told or so beautifully rendered as in this tale from picture book masters, Patrick Benson and Martin Waddell. With gorgeous golden foil on the cover and spine, this edition is one to share and treasure.
Author(s): Waddell, Martin, Benson, Patrick,
Binding: Board Book,
Date of Publication: 01/08/2017,
Pagination: 24 pages,
Series: N/A,
Imprint: Walker Books Ltd,
Published By: Walker Books Ltd,
Book Classification: Children's, young adult & educational,
ISBN13\EAN\SKU: 9781406374377