---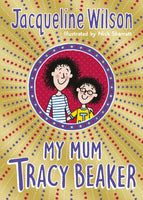 Everyone's favourite feisty heroine - Tracy Beaker is BACK in this entertaining novel featuring her daughter Jess.
Jacqueline Wilson, most-loved author has sold 40 million copies of her books. Her characters don't need a cape, or a special power to be a hero to generations of children; just huge imaginations, a bit of fierceness and a big heart.

And there is no hero fiercer or more iconic than Tracy. Now meet Tracy's daughter, Jess in this heart-warming tale of unconventional families and unconditional love. Jess and Tracy Beaker are the perfect team.

They do everything together. Jess thinks Tracy is the best mum ever, even when she shouts at her teachers! Tracy has made the perfect home for Jess, leaving The Dumping Ground far behind her. Yes, it's tiny, a bit mouldy and the Duke Estate is a bit scary.

But it's their happy home. Until Sean Godfrey, Tracy's rich boyfriend, whisks them away to a whirlwind life of fast cars and celebrity stardom. Will Jess's brilliant mum turn into a new person altogether? And will Tracy realise that her childhood dream might not be what she needs after all?
Shortlisted in the UK Author Category in the National Book Awards 2018! One of The Observer's Best Children's Books of 2018!
Now a major TV series on CBBC and iPlayer
'An unbelievable talent' David Walliams
Author(s): Wilson, Jacqueline, Sharratt, Nick, Sharratt, Nick,
Binding: Paperback,
Date of Publication: 04/10/2018,
Pagination: ,
Series: N/A,
Imprint: Doubleday Childrens,
Published By: RHCP,
Book Classification: Unclassified,
ISBN13\EAN\SKU: 9780857535238