---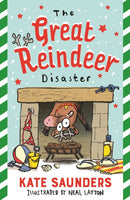 Jingle bells, Jingle bells, smelly poo and bum! You can wait for Christmas but it's never going to come!
When a miniature reindeer named Percy falls down the chimney of the Trubshaws' holiday cottage, the last thing they expect is to be whisked away to the distant planet of Yule-1 - the REAL home of Father Christmas, the elves, and his intrepid reindeer delivery teams. And what an amazing place it is - nobody minds being stuck there until the computer system has been mended. But the festive season is in danger! One rogue reindeer has teamed up with the evil Krampus to sabotage everything.

Unless Percy and his new friends can track them down, there will be no Christmas this year - or EVER AGAIN!
Illustrated in black and white by Neal Layton, this is destined to become a holiday favourite.
Author(s): Saunders, Kate, Layton, Neal,
Binding: Paperback,
Date of Publication: 07/11/2019,
Pagination: 176 pages,
Series: N/A,
Imprint: Faber & Faber,
Published By: FABER & FABER ,
Book Classification: Children's, young adult & educational,
ISBN13\EAN\SKU: 9780571348985